There's some pretty cool people at
NIDA
. Here's part one: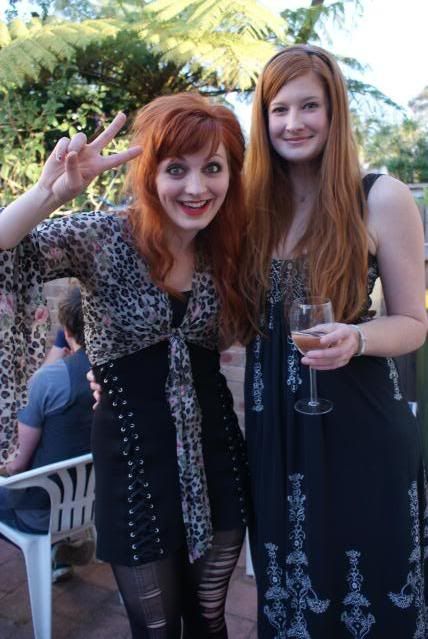 Jacinta
(left)

What do you like to do?
I do art, so drawing, I like going to gigs. Just being crazy. Seeing bands, hanging out with friends, seeing movies, theatre shows, all sorts of stuff.
Favourite movies:
I like Tim Burton, but I love Charlie Kaufman too.
A worst experience:
going on stage and not feeling confident.
If you were a serial killer, what would your trademark be?
I'd, like, want to kill them with cup cake stoning; ice cream through the brain and put sprinkles on them.
Becca
J
(right)
Inspirations:
Kate Winslet; Barack Obama and Gerald Durrell
Things you like to do when no one is looking:
I play out stories, that I've made up, out loud.
Favourite place in the world?
New York
If you were a serial killer, what would you trademark be?
I'd paint their face somehow. Like with tats.
Antonio
What is music to you?
Probably the only constant thing I've had/ passion since I was fifteen years old...High addiction to it.
Top five musicians:
A drummer from Sydney,
Evan Mannell
; Canadian producer, Caribou;
Hanne Hukkelberg
; John Maddox.
Antonio is master of ribognia (MoR) - check out his music
here
.
His colab with
Lanie Lane
was featured in a video for I heart Kings Cross
-
iheartkx
He's also the drummer of Astro Balls and The Crazy Sexy
-
http://www.myspace.com/astroballz