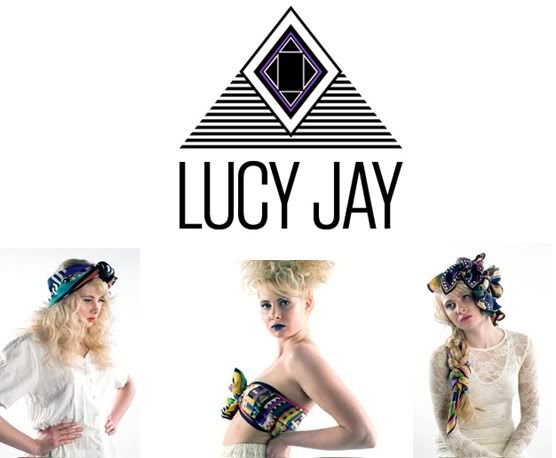 Lucy Jay is the director and creative designer of
Lucy Jay
, the emerging independent design label, adding a little colour to our lives and wardrobes one scarf at a time.
Why Scarves?
I love colour and wanted everyone else to love it just as much, so I decided to start making silk scarves so people can fall in love with colour and look amazing too
As a designer where do you draw inspiration from?
Anything, as long as it is bright, bold and slightly unusual... anything along those lines usually inspires me
Briefly, what does the process of making a scarf involve?
I will start with the design process that will involve me creating the scarf print itself on the computer, this usually takes a lot longer than I expect as I change my mind about the designs on a daily basis and take things in and out and switch things around while debating what look the best, while drinking large amounts of tea as I am deciding. When I am totally happy with the prints I will send them to the printers who will digitally print them onto the silk and from there they will be finished, sent to the shop and marketed... and that is it!
What is the best advice you have ever been given?
Not to sleep too much, you will waste to much time... I only recently
got told this and thinking about it, it is very very true!
As a child, what did you aspire to do?
My mum and dad tell me I was one of those kids that was always coloring in and drawing and I do remember in school writing a story about wanting to be an artist and a fashion designer, but I also remember wanting to be a chef a pilot and a street dancer, all three of those i can imagine I would not be very good at, so I guess I am on the right track with the artist / designer idea!
If you could buy one thing for everyone in the world what would it
be?
A Lucy Jay scarf of course!
Where is my favorite place in the world?
Home
If you could only eat one food for the rest of your life what would it be?
I would get my mum to make me a life time supply of her Chicken Alfredo, it is amazing and I would happily eat that forever
I you lived your life by one book, which one would it be?
Something funny and exciting... I can't think of a title...?
If your life were an MTV show, what would it be called and what
would it be about?
'The Super Dooper Lucy Show' and it would be about loads of super interesting things to do, buy and find
What is your favorite movie?
Shrek, it's great
Have you ever had any pets/ do you have pets now?
At home we have a dog called Harvey, he is a Westie and the best dog in the world. He watches a lot of TV when it is left on and has a massive grudge against people who wear high viz jackets, such as our postman, otherwise he just sleeps and snores, he is great I love him so much.
Describe your perfect day
Sunshine, food, music, boyfriend and my friends
If you were a serial killer, what would your trademark be?
Silk Scarf
Lisa Mitchell wearing Lucy Jay
www.lucy-jay.com