From Cyndi Lauper to Enya, from the Cure to the Wiggles, to Peaches, Sarah Blasko and John Cale, ACDC and the Pretenders, Tony Mott has photographed most of the greatest musicians of our time.
Who is your favourite photographer?
Pennie Smith, Wendy McDougall
If you could be reincarnated into any decade, which would it be?
the 60s
Favourite films?
Cinema Paradiso; Eternal Sunshine of the Spotless Mind; Being John Malkovich; anything by Woody Allen
Who is someone you've always wanted to shoot?
John Lennon
If you could buy one thing for everyone in the world, it would be:
a meal
If you were a serial killer, what would your trademark be?
incompetence - I wouldn't kill anyone.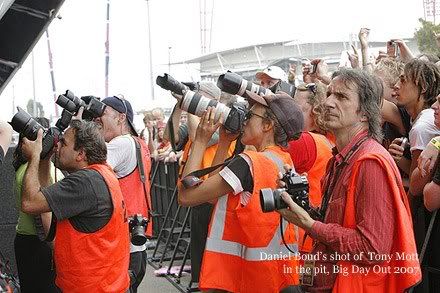 tonymott.com
Big Day Out with Tony Mott
(last image from mess and noise
)