A little fashion appreciation. When understanding the culture behind a label - its ethos, its style, its values and its aims - I think we can appreciate it more than
"just a pretty dress"
.
In the namesake of Miuccia Prada's nickname, Miu Miu was born in 1992. I use this personification because Miu Miu is the little flower girl who refuses to walk down the aisle but ends up casting a shadow over the bride. Boldness and shyness encompassed alike. She is nonchalant yet there is a chicness that only a very old, wise woman would share with only her collection of brooches. This innocence yet haunting sophistication is encompassed in the SS 2010 collection, which undeniably, the world has fallen in love with.
Miu Miu was established for the younger market, with more affordable prices, characterised by prints, organic colour and a down to earth element. The Spring/Summer 2010 collection which premiered at Paris fashion week last October was nothing short of this character, made up of birds, cats and daisy prints and jewelled embellishment. A soft pale pink and blue palette was highlighted with deep navy and striking red, to make it a visually satisfying collection for the style hungry. Since then, everyone seems to want to get their hands on Miu Miu. It is impossible to open up a magazine editorial or fashion blog without some reference to it. And not that anyone is complaining, if anything – more please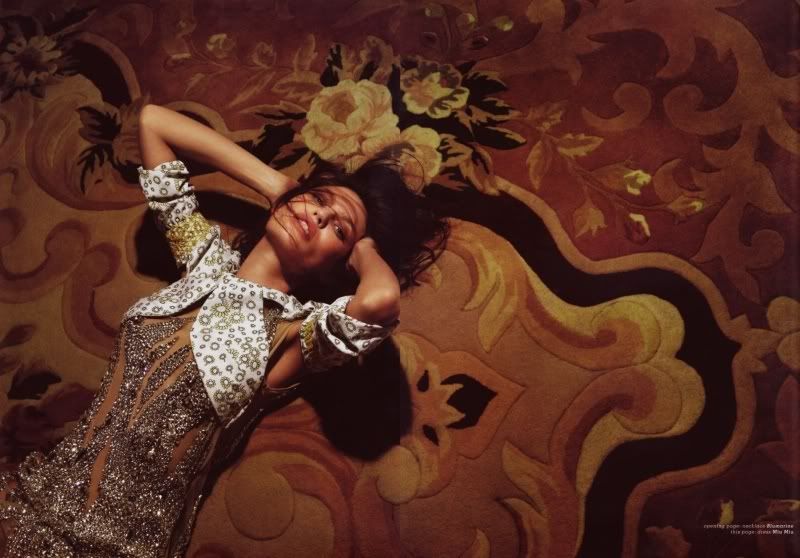 Muse spring 2010 - Bianca Bati (model) - Fabio Raineri (photographer) (
from here
)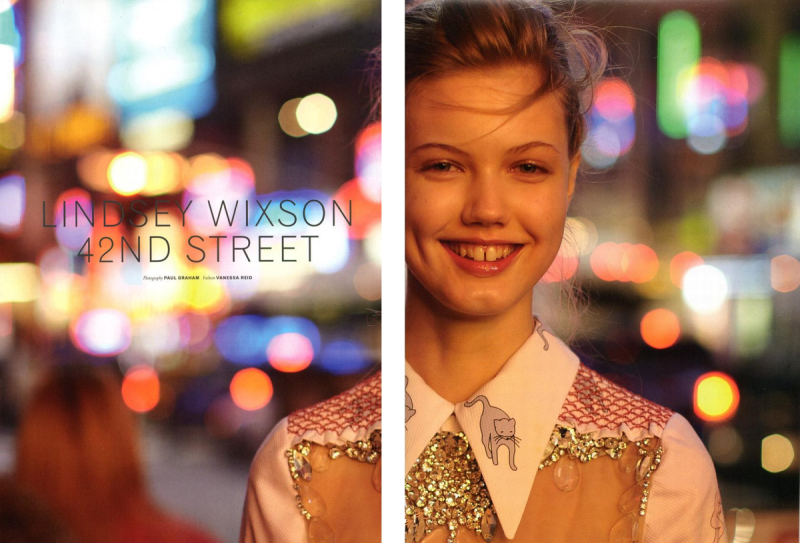 Pop SS 2010 - Lindsey Wixson - Paul Graham
(unknown)
Vogue Italia - Natasha Poly - Craig McDean (from
here
)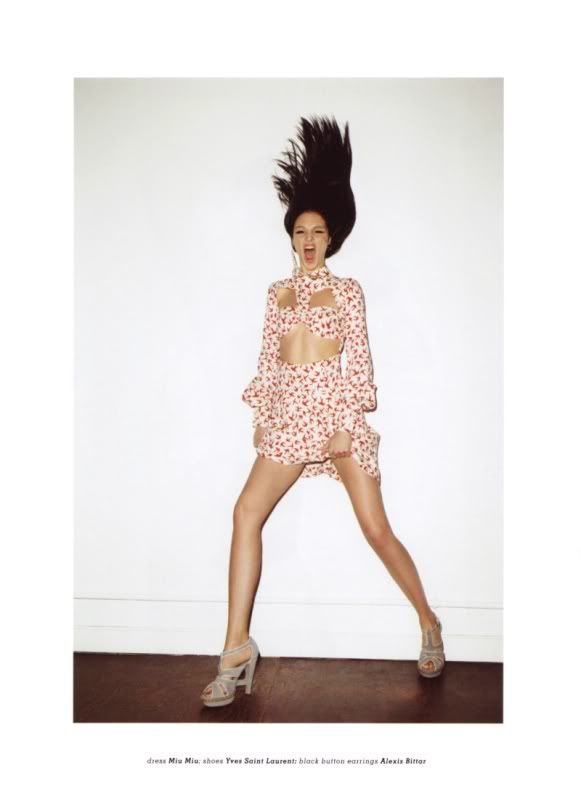 Muse Spring 2010 - Mariacarla Boscono - Terry Richardson (from here)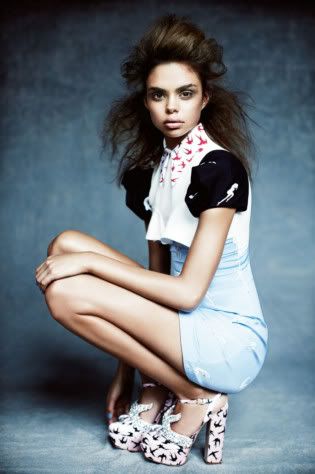 Vogue Australia March 2010 - Samantha Harris - Nicole Bentley (from
here
)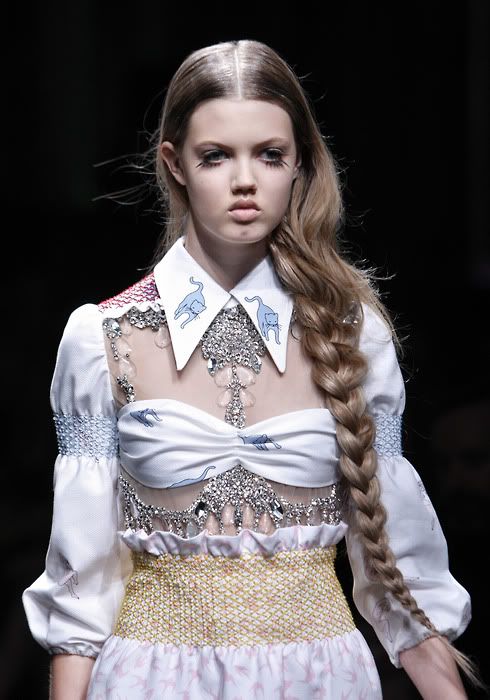 Lindsey Wixson on runway
(
tfs
)
I think the thing that makes a collection successful, is when different people, with different ideas and ways of life can wear it and use it to express a completely different idea to another person wearing the same piece. The Miu Miu collection is congruent with many different styles & fascinating because of this.

The campaign for the SS 2010 collection, as well as many past campaigns, was shot by my favourite photographers duo, Mert Alas & Marcus Piggot and featured upcoming bee-stung-lipped model, Lindsey Wixson. Looking back over past campaigns, it is evident that Miu Miu has sustained a theme of unique character and youth, through the people they choose to feature in them, and to my delight, really unique photographers. If you look at the people that have been faces for Miu Miu over the past (almost) 2 decades, you can almost imagine them all at a dinner party together. And wouldn't we all love to be there.
1994 FW - Rosemary Ferguson (face)- Corrine Day (photographer)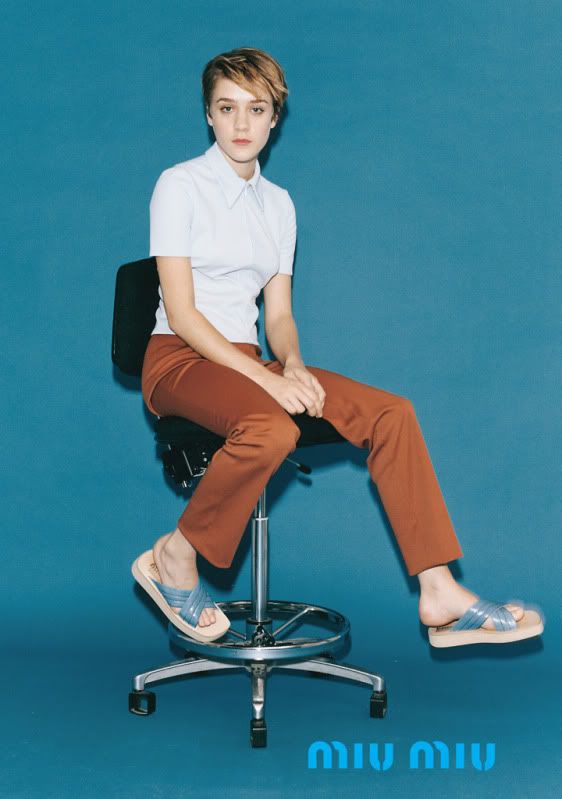 1996 SS - Chloe Sevigny
- Juergen Teller


2000 FW - Jenny Vatheur
- Horst Diekgerdes
2004 FW n - Maggie Gyllenhaal
- Terry Richardson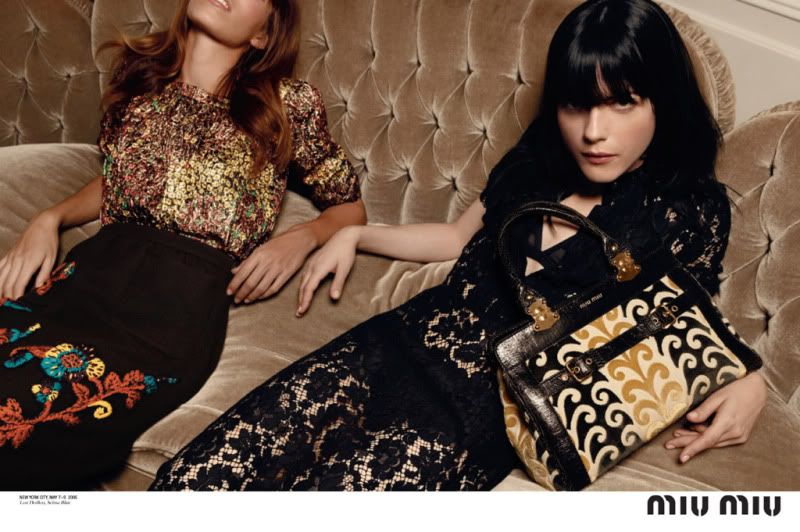 2005 FW - Selma Blair, Evan Rachel Wood, Lou Doillon and Eleanor Friedberger
- Ines Van Lamsweerde and Vindooh Matadin
2006 SS - Camilla Belle and Kim Basinger
- Inez Van Lamsweerde and Vindoof Matadin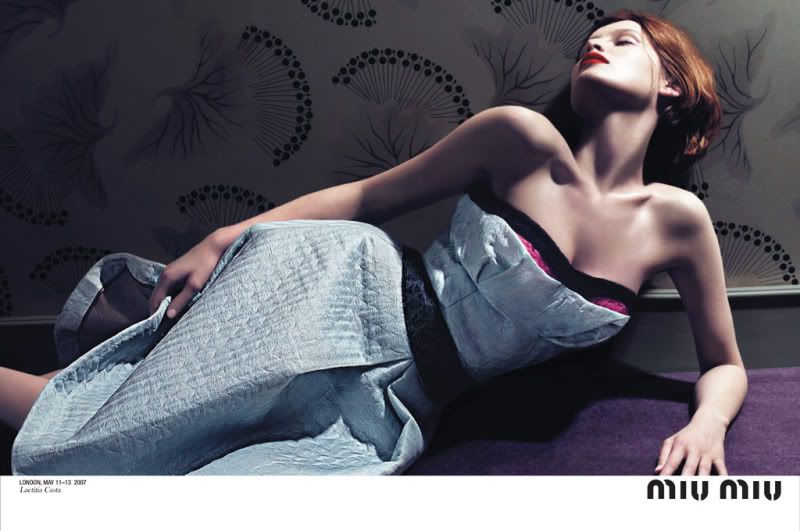 2007 FW - Laeitia Casta -
Mert Alas and Marcus Piggot
2008 FW - Vanessa Paradis -
Mert Alas and Marcus Piggot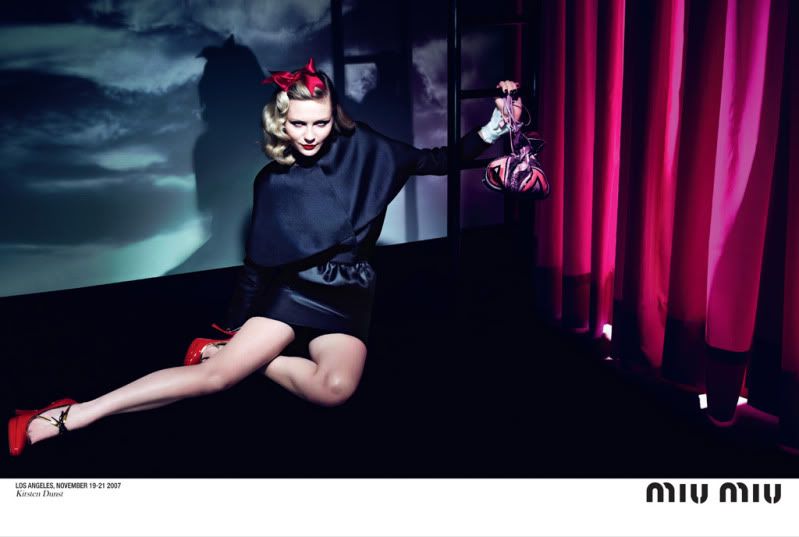 2008 SS - Kirsten Dunst -
Mert Alas and Marcus Piggot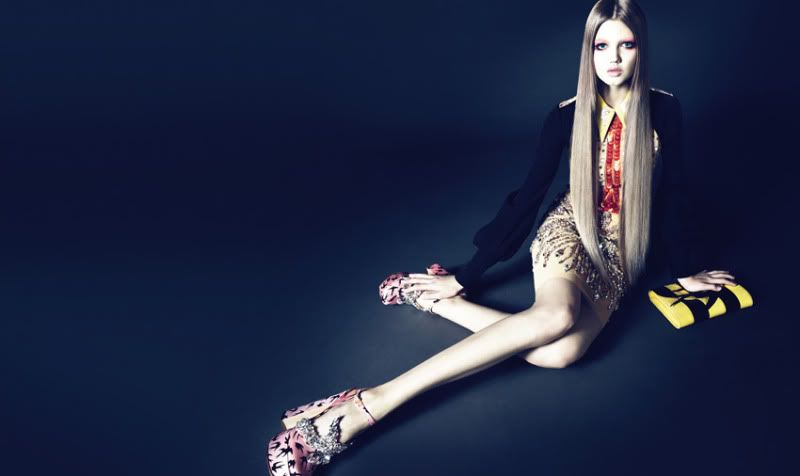 SS 2010 - Lindsey Wixson - Mert Alas & Marcus Piggot
- Joe McKenna (fashion editor/stylist) - Luigi Murenu (hair stylist) - Tom Pecheux (Make up artist)
[all images from miumiu.com]
Finally, my little fashionista Margot who lives in the magical world of photoshop, has the wonderful delight of being able to wear whatever she wants. So naturally, Margot is only wearing Miu Miu. And funkis clogs, which we'll save for another day.
Here she is in some Miu Miu, surrounded by lots of other Miu Miu.
..